MY TWO-WEEK AYURVEDA AND YOGA RETREAT IN INDIA / OCTOBER 2017
I've just returned from India, where I spent two very unusual weeks. I was in an ayurvedic center with a beautiful surrounding. There were people from different parts of the World who stayed there to heal or simply to take good care of their health. This particular resort has amazing results in treatment of various chronic health conditions however there are a lot of similar places in India which offer different programs. I took the detox program (like most people do who go there). I believe that every adult (regardless of their state of health) should do such cleansing at least once a year (for prevention purposes). Since it was such a new and unusual experience for me and the impact of the stay was so amazing I decided to write about it. Moreover I have decided that I would go there once a year for two weeks of detox and regeneration (because I would like to have a healthy, happy and long life, delaying my biological age😇😎).
Ayurveda is a form of alternative medicine that is based on the traditional system of medicine of India and seeks to treat and integrate body, mind, and spirit using a comprehensive holistic approach especially by emphasizing diet, herbal remedies, exercise, meditation, breathing, and physical therapy
Ayurveda is primarily a science of how to prevent deseases but not necessarily to cure. It is the oldest system of natural medicine in the world, which counts over 5 thousand years. Although many people think it is some herbalism or shamanism, Ayurveda is a complete, logical system that has been accredited by the World Health Organization since 1979 and is part of unconventional medicine.
I travelled to India with a friend of mine (and a few days later a group of friends from Poland arrived, some of which had already visited the resort for the 10th time). There were people from Switzerland, Israel, Australia, Great Britain, USA, Kenya and India (about 20 people as it is a very intimate resort, btw very nice people).
We landed in India after midnight. It was warm and very humid and we still had two hours by car to the resort. My friend slept and I looked out the window. The views were completely uninteresting, terrible poverty and dirt everywhere, which is typical for India. We arrived very late. We were taken to our cottages by very the staff who were incredibly welcoming and kind. We were so shocked and so scared by the little houses that first night we decided to sleep together … in one word the conditions were pretty raw (even if someone had described it earlier, it would have been difficult to imagine it.)👀😳😳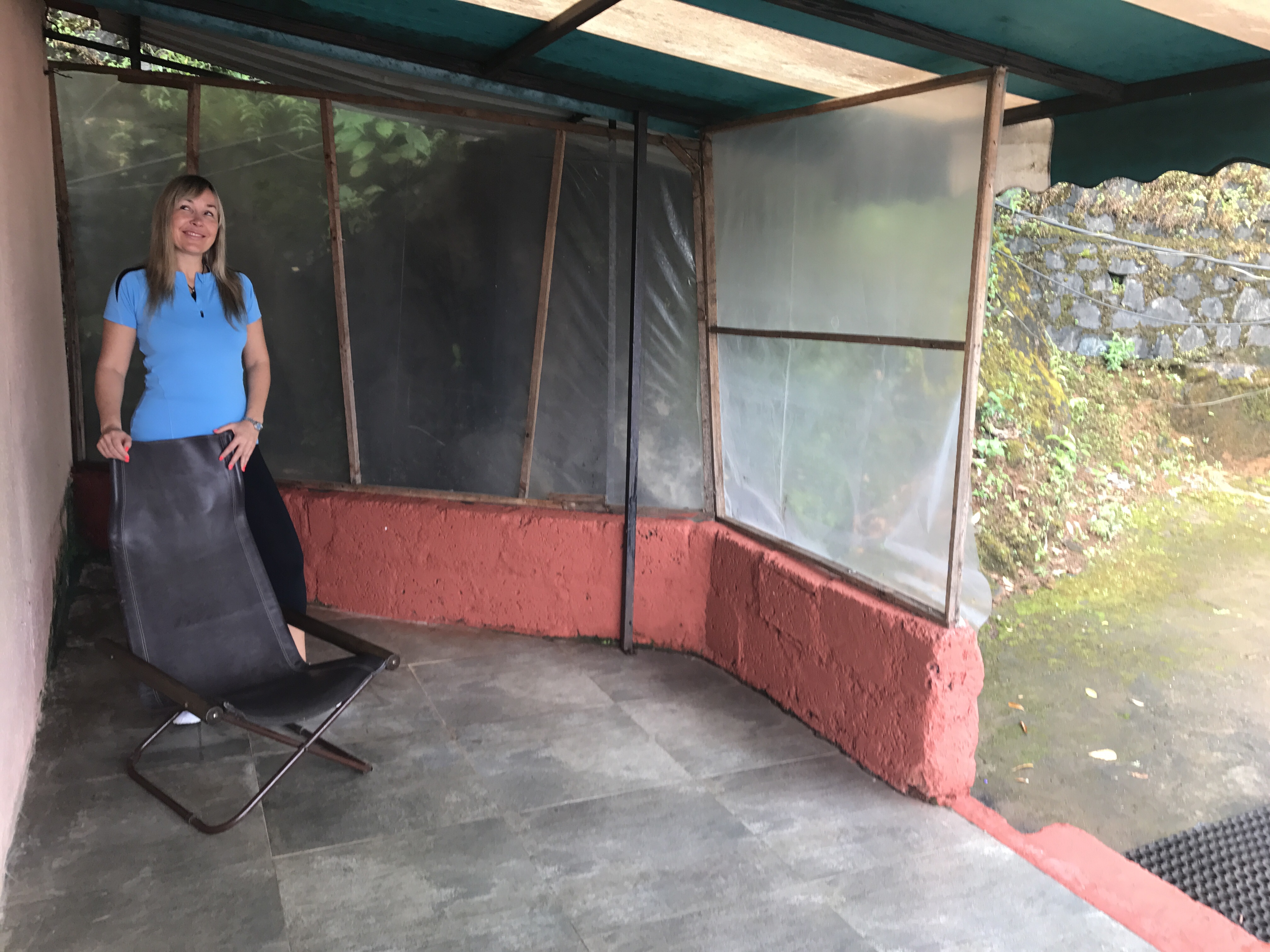 /the terrace of my friend's cottatge house/
After a few hours of sleep we got up for breakfast (unfortunately we missed the morning yoga, which was held daily from 7.00 to 9.00 am.) After the ayurvedic breakfast (a small bowl of fruit, pineapple and watermelon slices and chapati with chutney ) we were invited to see the Ayurvedic doctor. We were examined, interviewed about our health condition, lifestyle & habits, family history, our weight was checked and then we discussed the expected results of our stay. Here I want to mention that the side effect of the body detoxification is a significant weight loss (for most people).
After the meeting with the doctor we were put into the hands of our masseurs and we were invited to our first massage. Each person had his or her own massage therapist who performed all treatments during their stay.
The massage room was quite "raw" as well, not a typical"beauty spa" 🙂
However the massage was exceptional, I've never experienced such a massage before.
I was asked to undress and put on disposable underwear (I could also write a few sentences about that), then I was seated on a low chair. My masseur ,Sakina stood in front of me, smeared my head with coconut oil, then smeared some oil on my neck, belly above my navel, on my palms, knees and feet, closed her eyes, folded her hands for prayer and prayed silently (this ritual was repeated before each massage) and began to massage my head, then my back. After about 10 minutes she asked me to go to the massage table and .. took off my disposable underwear … That was another shock for me, but I tried to relax and just gave in to the experience. Each (almost each!) inch of my body was massaged. It was "Ahyangam" massage (with coconut oil and additives). My massagist from Kerala was simply fantastic. The massage took about 70 minutes. Then she put me in a wooden box with herbal steam. Only my head was outside (thank God). The steam was supplied by a pipe to the steam box, which was connected to a pressure cooker standing on a gas cooker …. The first impression was amazing or rather unbelievable…one has to experience it.
The whole morning treatment lasted about 1.5 hours. After the shower (which lasted quite a long time, as it was quite a challenge to wash off all the oils from my long hair) the massagist measured the arms, legs, waist, etc. We were told that at the end of our stay the measurements would be repeated. Then Sakina seated me on the bench in front of the hut where massages and treatments were taking place and smeared the tip of my head with yellow powder (supposed to improve immunity), she told me to inhale it three times and finally put some of it on the center of my forehead and on my neck. This ritual was repeated every day at the end of the treatments. The bench overlooked the most breathtaking view. These moments were one of the most beautiful moments of my stay (a sort of meditation).

In the following days after the massage the massagist always took me to the doctor's office for a blood pressure check and a brief interview about my condition.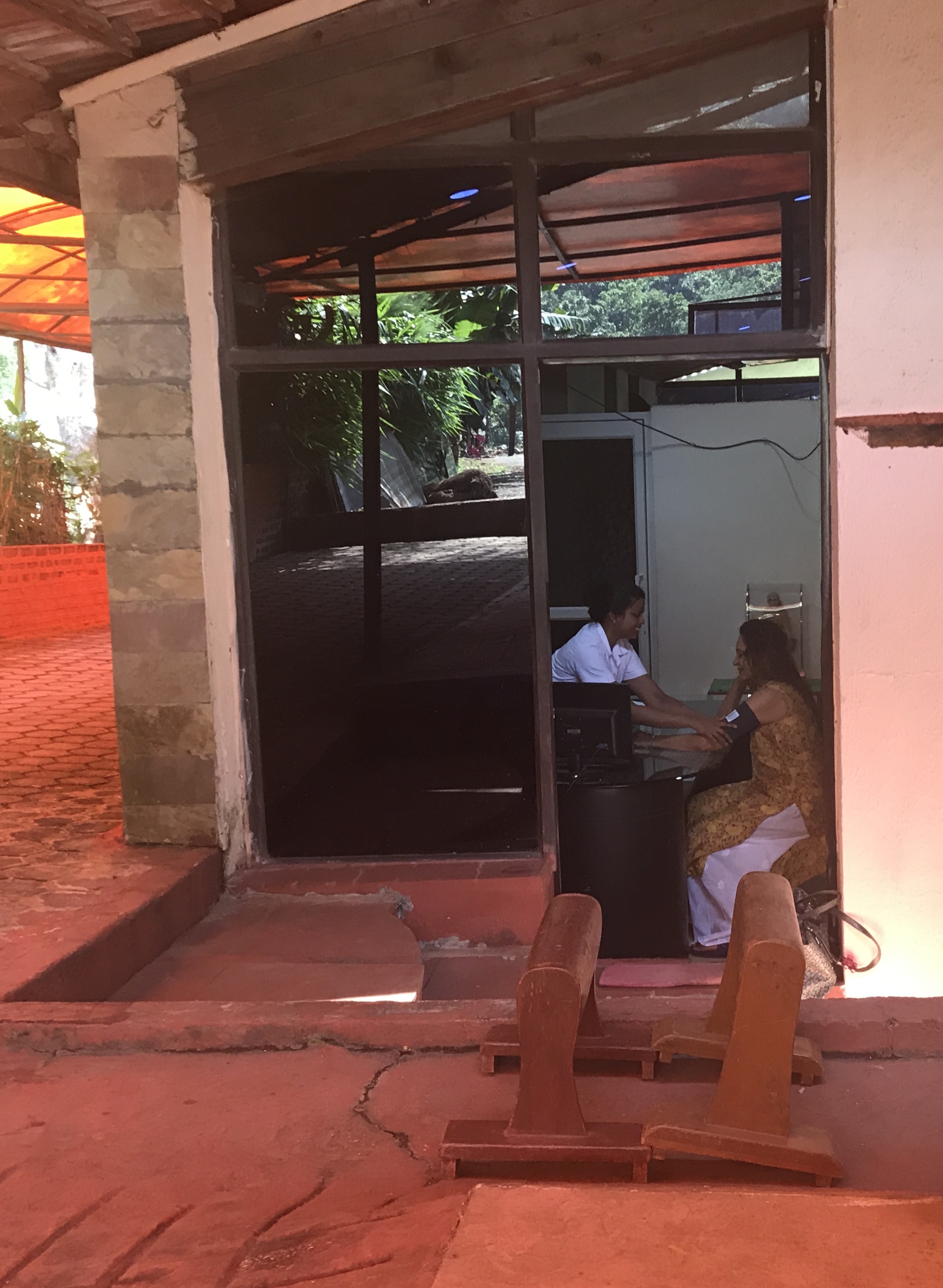 After the massage there was time to relax on the terrace next to the reception. It was time for chatting (and checking emails – hahahah – if the internet was working, because most of the days it was not really reliable).
The view from the terrace was spectacular.
The daily schedule was as follows:
Wake up at 6.30 with herbal tea brought to the room / cottage, 7.00 – 9.00 yoga, 9.00 breakfast, after breakfast massages / morning treatments, 13.00 lunch, 15.00-16.00 yoga, 16.00 : Snack, afternoon massages / treatments, 19.00 dinner.
On the first day after lunch we went for an afternoon massage (each with our massageur).
The massage involved a "patting" on the back and legs with "stamps" as in the attached picture.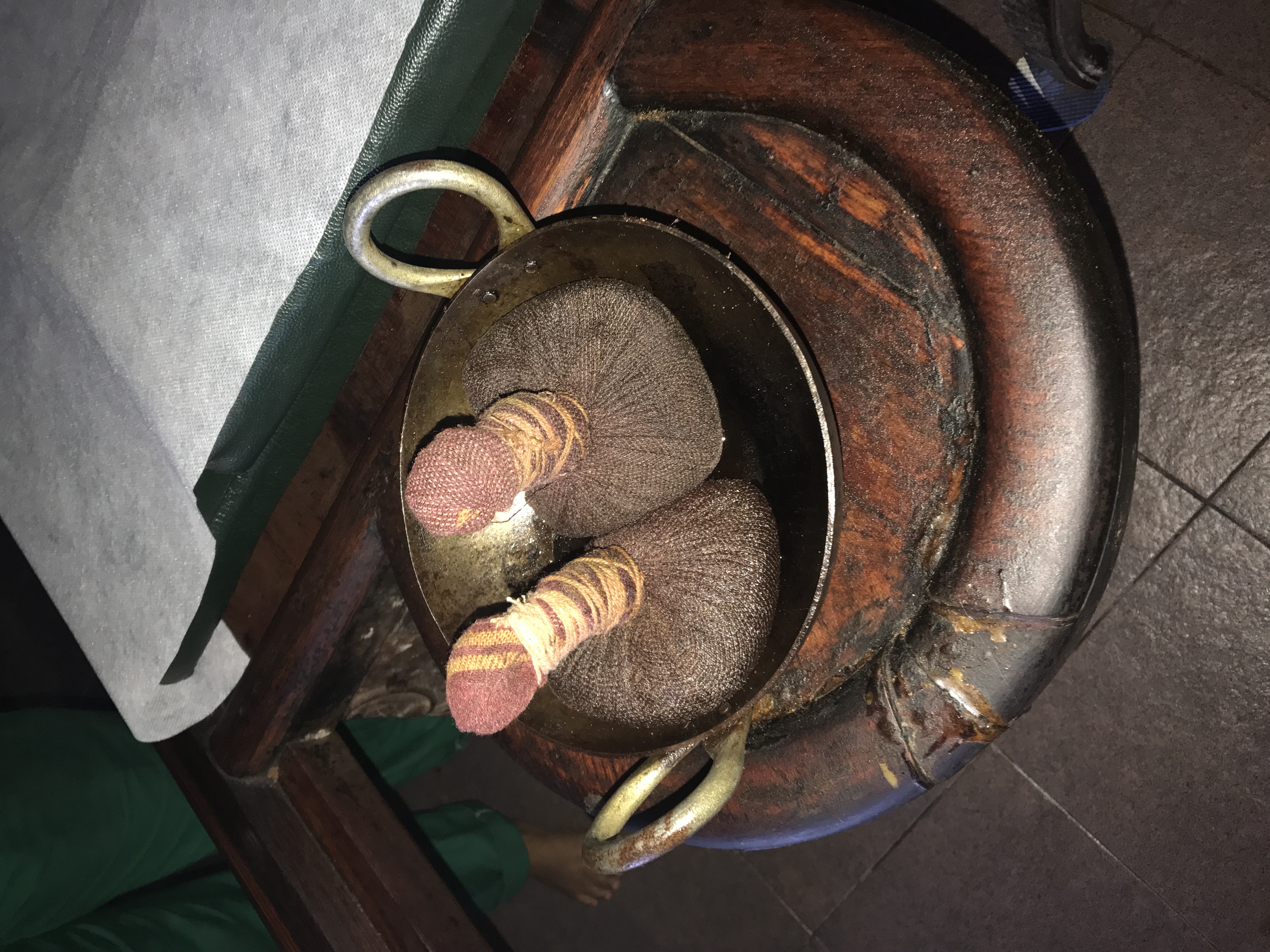 The stamps were dipped in herbal preparation, which was heated in a bowl on a fire. It was called "Podikizni" treatment. The afternoon treatments usually lasted half an hour. Then again, the bath and washing my looong hair….
This is how they prepared the content of the "stamps" for the massage: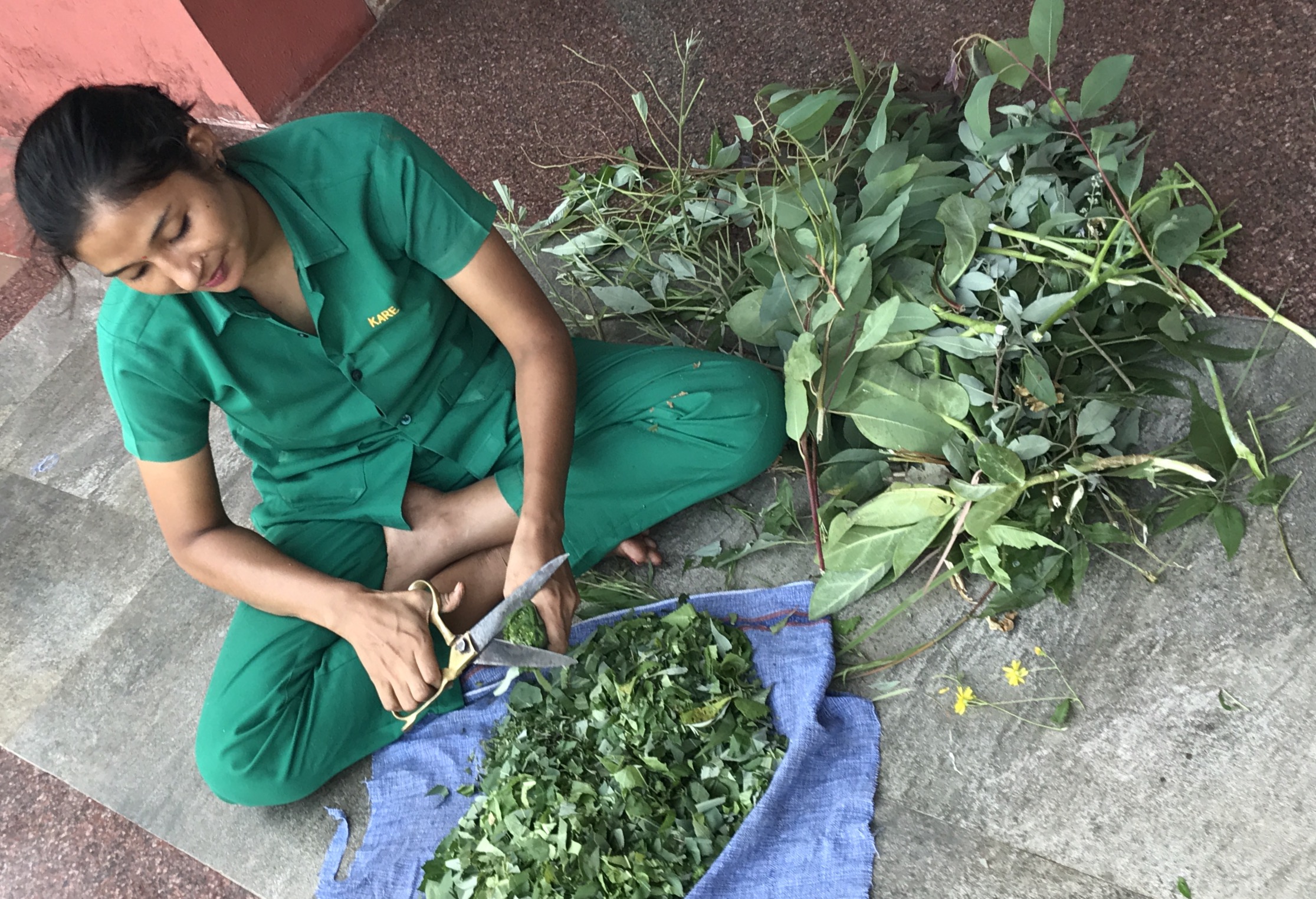 The special dried herbs are supposed to help the process of the the detoxification and improve metabolism.
The massages and treatments were a very important part of the whole program.
Before every meal, there was a short prayer…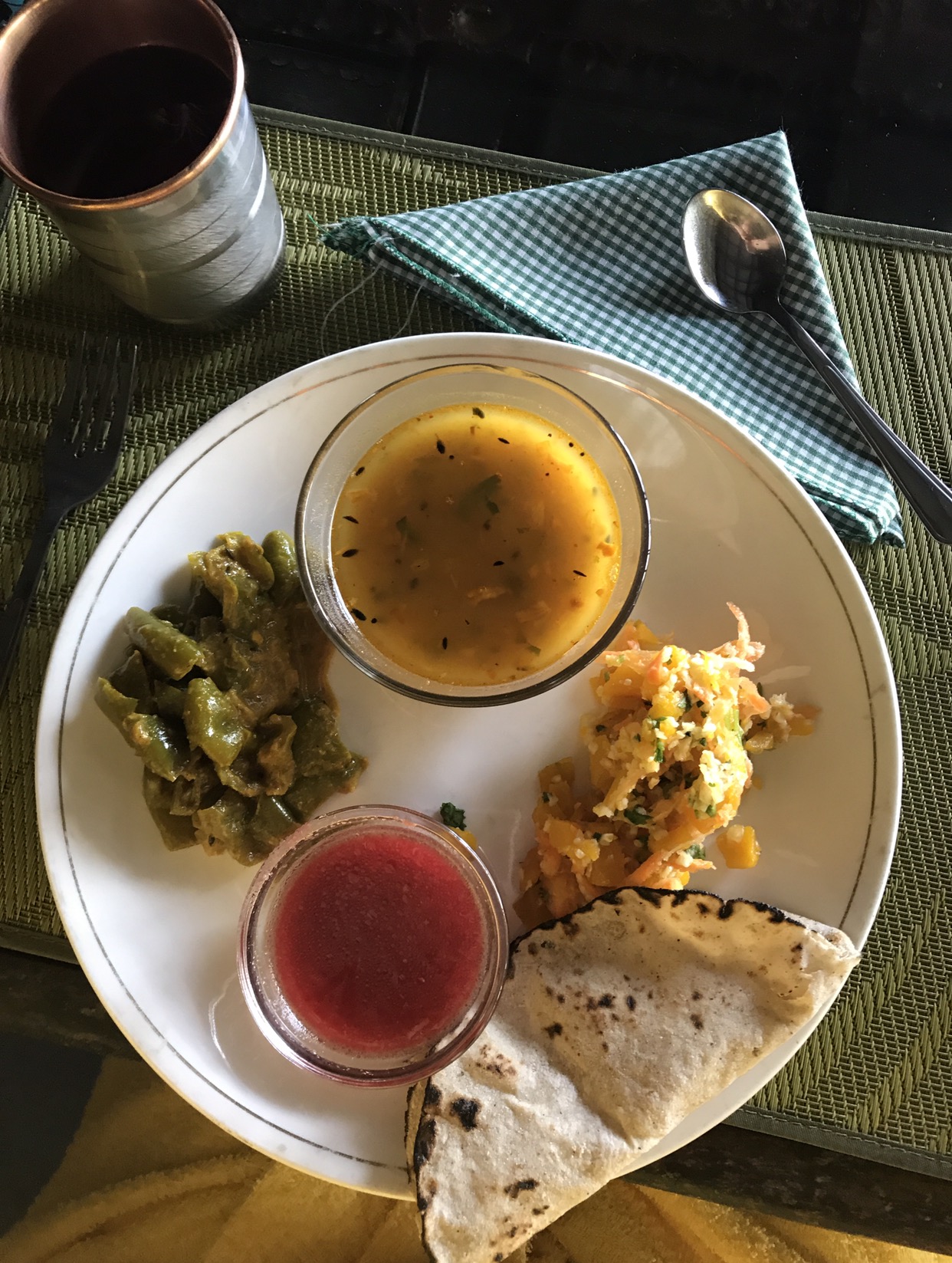 The Ayurvedic meals were very tasty. For lunch we were always offered soup, some vegetables in spices (curry), salad (never raw), chapati (prepared from flour that does not contain gluten) and dal – lentil soup. To drink we were offered herbal tea or herbal water. The portions were rather small (but you could ask for more). Lunches and dinners were similar, but for lunch there was always some sweets with honey. The dessert had to be eaten at the beginning as a starter … We should generally follow this rule on a daily basis. The meals were prepared in such a way that no one went hungry. Everything was cooked or prepared according to Ayurvedic recipes, using pure ghee butter (clarified butter), and nothing raw.
After 18.00 it was already dark, after 21.00 – 21.30 usually everyone went to their houses to sleep ( like little kids).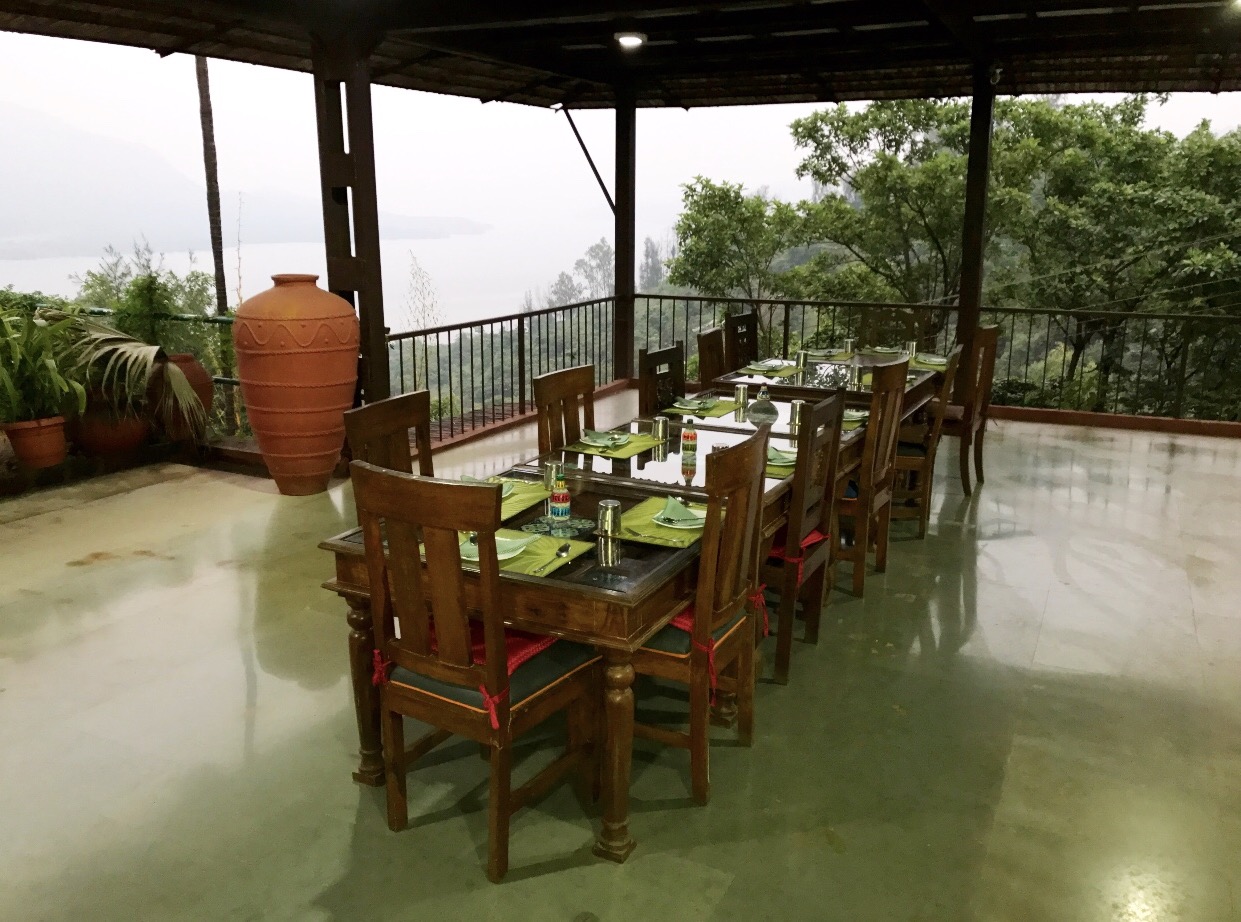 This was our dinning table.
From the second day on I attended all the morning and afternoon yoga sessions. They practiced "Iyengar Yoga", which gives incredible health benefits. It was lead very professionally. The yoga room was equipped with all the necessary aids. There were at least four yoga assistants during each practice.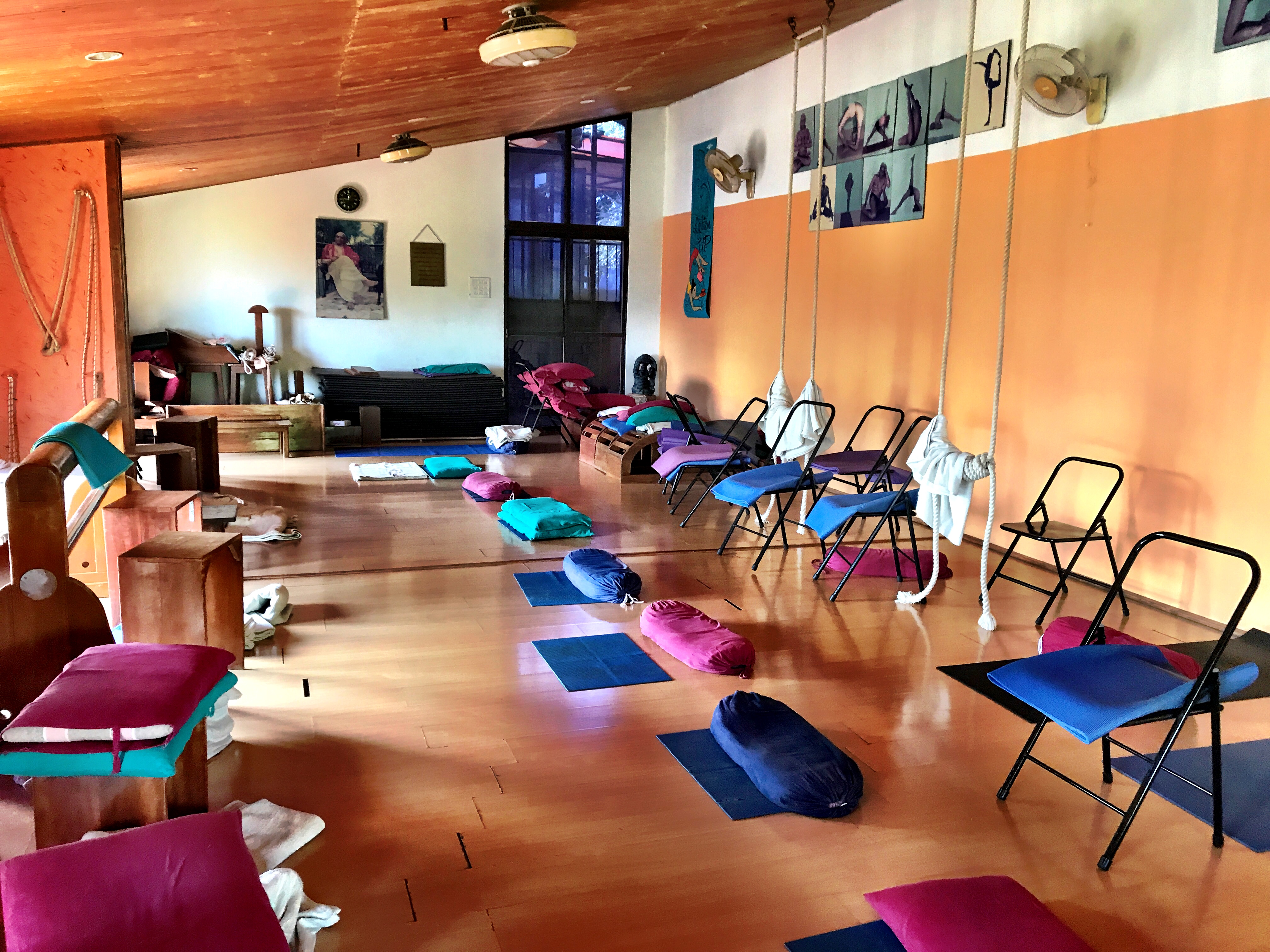 The morning yoga (which lasted 2 hours) was quite exhausting, unlike the afternoon practice, which was more focused on stretching and relaxation.
A 2-hour daily yoga practice can prevent us from many diseases and chronic conditions. (finding that much time in our daily life maybe a challenge).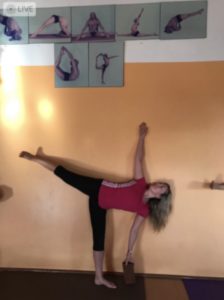 On the second day I started the detox program. For seven days I had to drink medical ghee butter after the morning yoga. The first portion was 30 ml of butter and each day the amount was increased by 30 ml. On the seventh day I had to drink 210 ml !!! of that butter.😱😝😛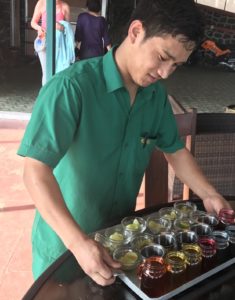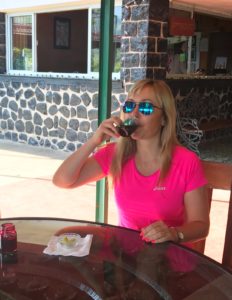 I did not have much of a problem with this, but I had "fun" watching the funny faces of some people taking larger doses.. After drinking it we could eat a slice of lemon with salt to kill the taste (like after tequila hahaha) and in order to avoid vomiting ….
The peppermint essential oil that I took with me to India saved a few people from greater nausea. I put a few drops of the oil in the back of their necks, it was very energizing and stimulating.
By the way, I calculated that during the 7-day process I drank 840 ml of butter, which is more than a bottle (of wine🤣). brrrrrrrrr.
Ghee butter enters the body in such quantities that it binds the toxins in the cells so that at the end of the whole process it cleanses the organs (liver, intestines, etc).
During these days the first meal was a snack at 16.00 (except for the first day when a small portion of salad was served for lunch and for the following days only lemon juice and salt).
After drinking the ghee butter we were advised to go for a walk (preferably 45 minutes, I walked more). These walks were very enjoyable especially because I was always accompanied by someone new from a different country 😎
Most people had problems tolerating the detox process (which is normal). They did not even have the strength to walk, were experiencing nausea and generally felt very weak.
I felt great all the time, so my friends told me that I had ADHD 😏😉😅
Only twice did I manage to find company willing to trek across the surrounding mountains with me🤣😎😁. The view was magnificent.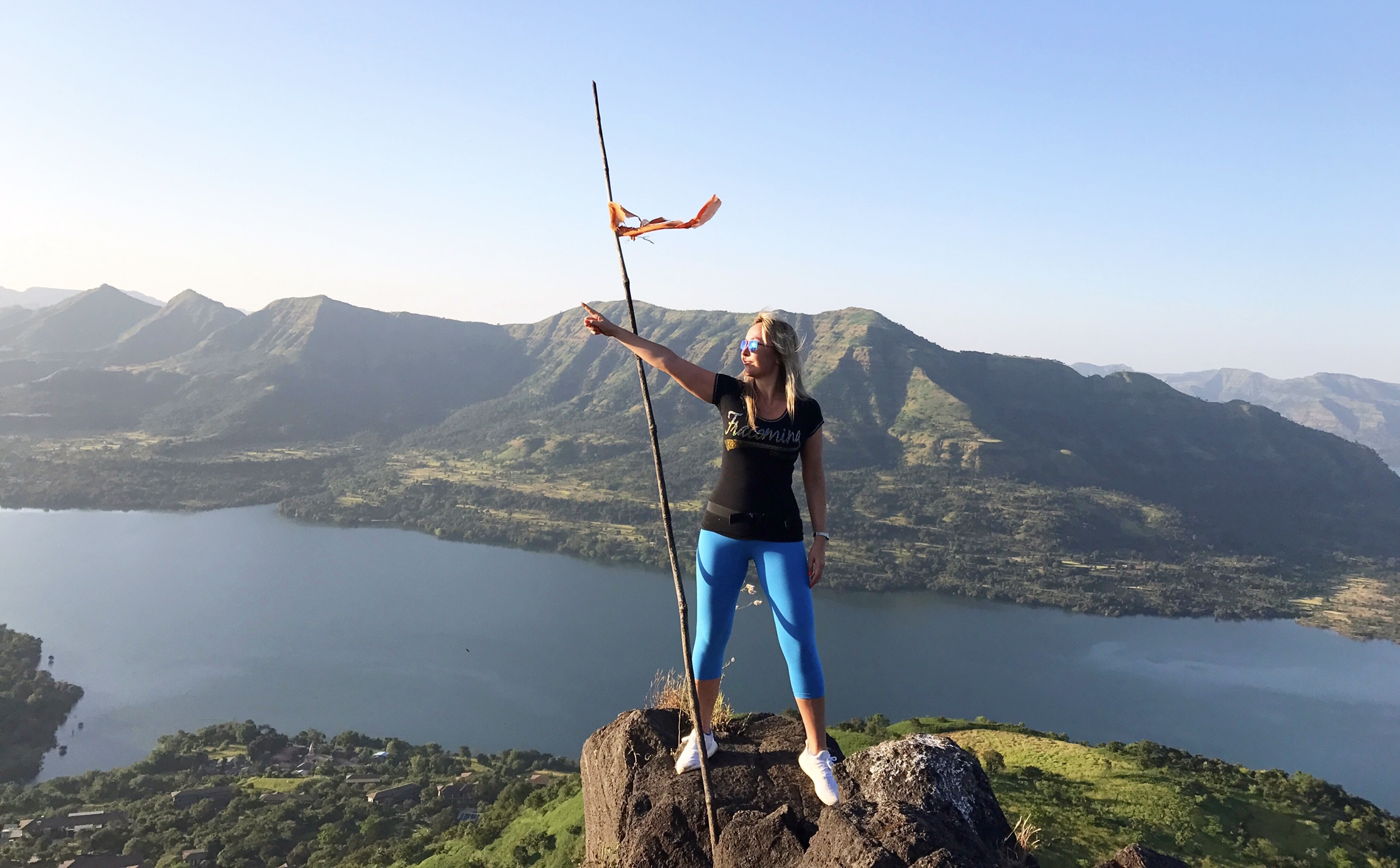 On the seventh day of drinking ghee, we had 2 days of break, where at last one could eat four meals (of course prepared strictly according to Ayurvedic recipes).
The following day was the day of "Vierachana" (purification). After the morning yoga and massage, we were given pills (and a dark paste) that would cause a total purification of the body.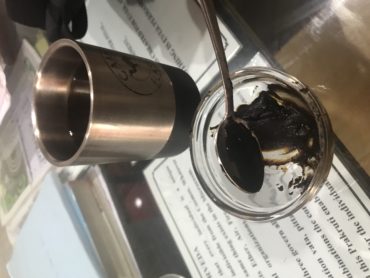 We were advised to go to our rooms until the end of the day. The doctor called every hour to check if the patient was still alive😉😉😉
For most people the process takes hours, they have cramps, and by the end of the day they no longer have the strength to leave their rooms.
Surprisingly I went through it very lightly and frankly got bored staying in the room. Finally in the afternoon I decided to leave the room and to go chill on the terrace. The doctor could hardly believe. He said that I was very strong and probably had very little toxins (thanks to my normal every day diet), which was quite a relief.
For the following three days after the cleansing we were allowed to eat only rice water , lentil water and then rice-lentil meal, no spices, no salt … and no taste😰).
During the days of taking ghee butter I had various massages and accompanying treatments. One of them was "Udhwarthanam" the so-called powdered massage. Four hands, two people massaging. It was a very hard and intense massage, improving blood circulation, supporting metabolism and helping to get rid of toxins. After the massage, the masseurs looked like they had just ran a marathon!
On the day before my departure, I had a very nice and relaxing massage called "Sirodara" which is done by pouring oil on the forehead, which causes total relaxation of the mind and body.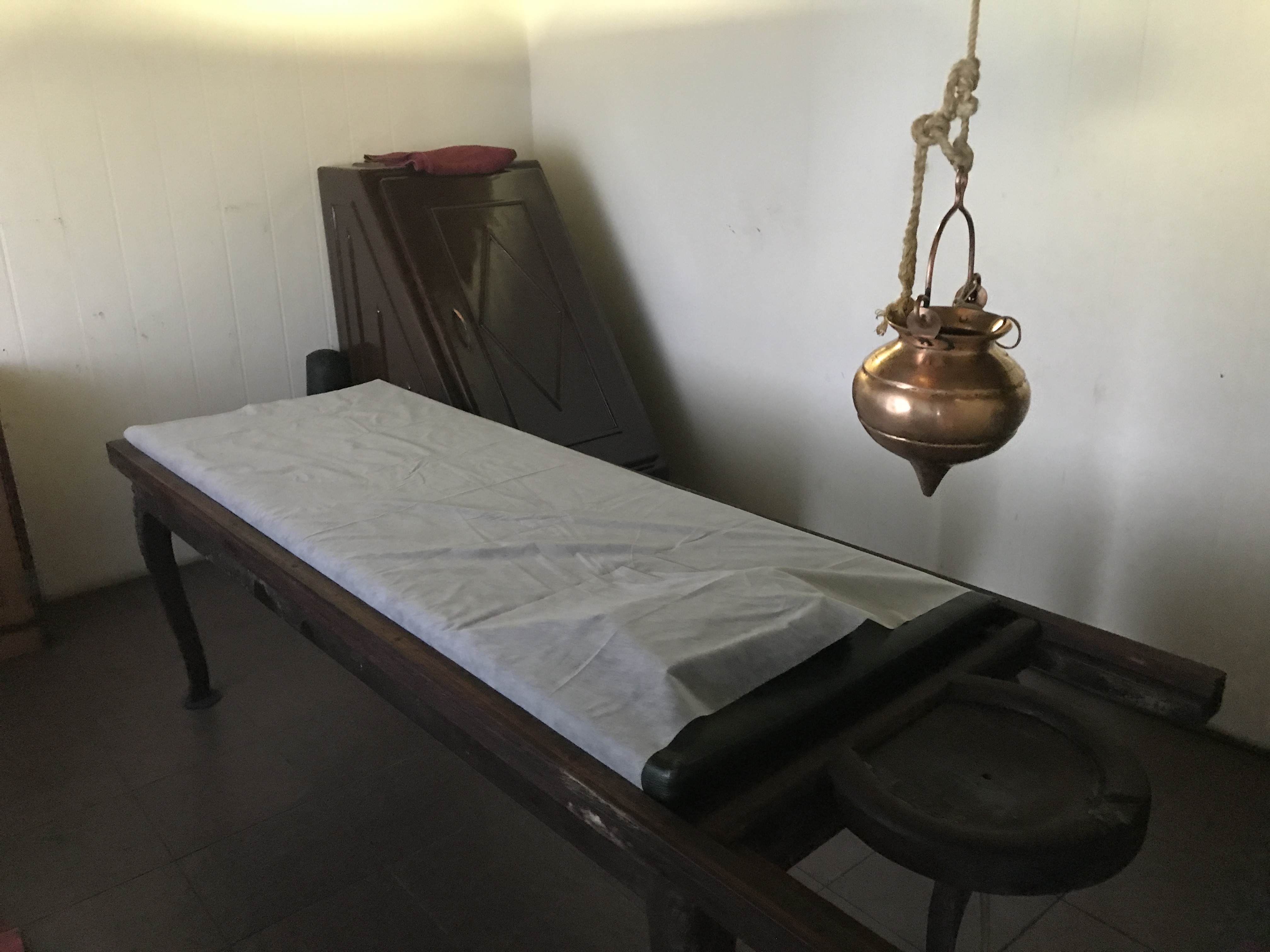 It is generally recommended to take a 3 week detoxification program. The minimum should be two weeks. Such a stay is also fantastic in terms of breaking away from reality, daily problems and stress, allowing us to look at our reality and life from a different perspective.
Most people lose 6-10 kg during such a stay (which is a side effect of the detox. I lost 5 kg). Most people look much healthier, their face become radiant and the skin younger.
I recommend such a recovery break to everyone with all my 💚💚💚💚💚💚💚
---