MÓJ DWUTYGODNIOWY POBYT W INDIACH DLA ZDROWIA / PAŹDZIERNIK 2017
Właśnie wróciłam z Indii, gdzie spędziłam dwa tygodnie w sposób zupełnie nietypowy. Był to wyjazd do AJURWEDYJSKIEGO ośrodka, do którego przyjeżdżają ludzie z różnych stron świata w celu odzyskania zdrowia lub po prostu zadbiania o nie. Ośrodek ma niesamowite rezultaty jesli chodzi o wyprowadzenie ludzi z różnych dolegliwości i chorób (przewlekłych). Takich miejsc jest sporo w Indiach. Oferują różne programy. Ja wzięłam program detoksykacji organizmu tak jak większość ludzi, którzy tu przyjeżdżają. Uważam, że każdy (dorosły człowiek) niezależnie od stanu zdrowia powinien zrobić takie oczyszczanie organizmu conajmniej raz w roku (w celu prewencji). Ponieważ było to tak nowe i nietypowe doświadczenie dla mnie a efekt pobytu jest tak niesamowity to postanowiłam napisać o tym. Postanowiłam również, że będe tam jeździć raz w roku na dwa tygodnie detoxu i regeneracji (bo chciałabym żyć zdrowo, szcześliwie i długo😇😎😁 opóźniając swój wiek biologiczny 🙃). Ajurweda jest przede wszystkim nauką o tym, jak zapobiegać, a nie leczyć. To najstarszy system medycyny naturalnej na świecie, który liczy sobie ponad 5 tys. lat. Choć wielu osobom wydaje się, że jest to jakieś ziołolecznictwo lub szamanizm, to ajurweda jest kompletnym, logicznym systemem, który od 1979 roku jest akredytowany przez Światową Organizację Zdrowia i zaliczany do medycyny niekonwencjonalnej.
Poleciałam do Indii z koleżanką (kilka dni później doleciała jeszcze grupa znajomych z Polski. Niektórzy byli tam już po raz dziewiąty). Na miejscu byli ludzie ze Szwajcarii, Izraela, Australii, Wielkiej Brytanii, USA, Kenii i z Indii (około 20 osób, bo jest to bardzo kameralny ośrodek, notabene bardzo fajni ludzie😁).
Doleciałyśmy do Indii po północy. Było ciepło i bardzo wilgotno, czekała nas jeszcze podróż samochodem do miejsca docelowego. (Koleżanka spała, a ja wyglądałam przez okno. Widoki były zupełnie nieciekawe, straszna bieda i brud wszędzie, zresztą typowe widoki dla Indii). Dojechałyśmy bardzo późno. Miły pracownik ośrodka zaprowadził nas do naszych domków. Byłyśmy tak zaszokowane i takie przerażone tymi domkami, że postanowiłyśmy razem spać pierwszej nocy… jednym słowem warunki były dość surowe (nawet gdyby mi ktoś to opisał wcześniej, nie byłabym w stanie tego wyobrazic sobie 😳)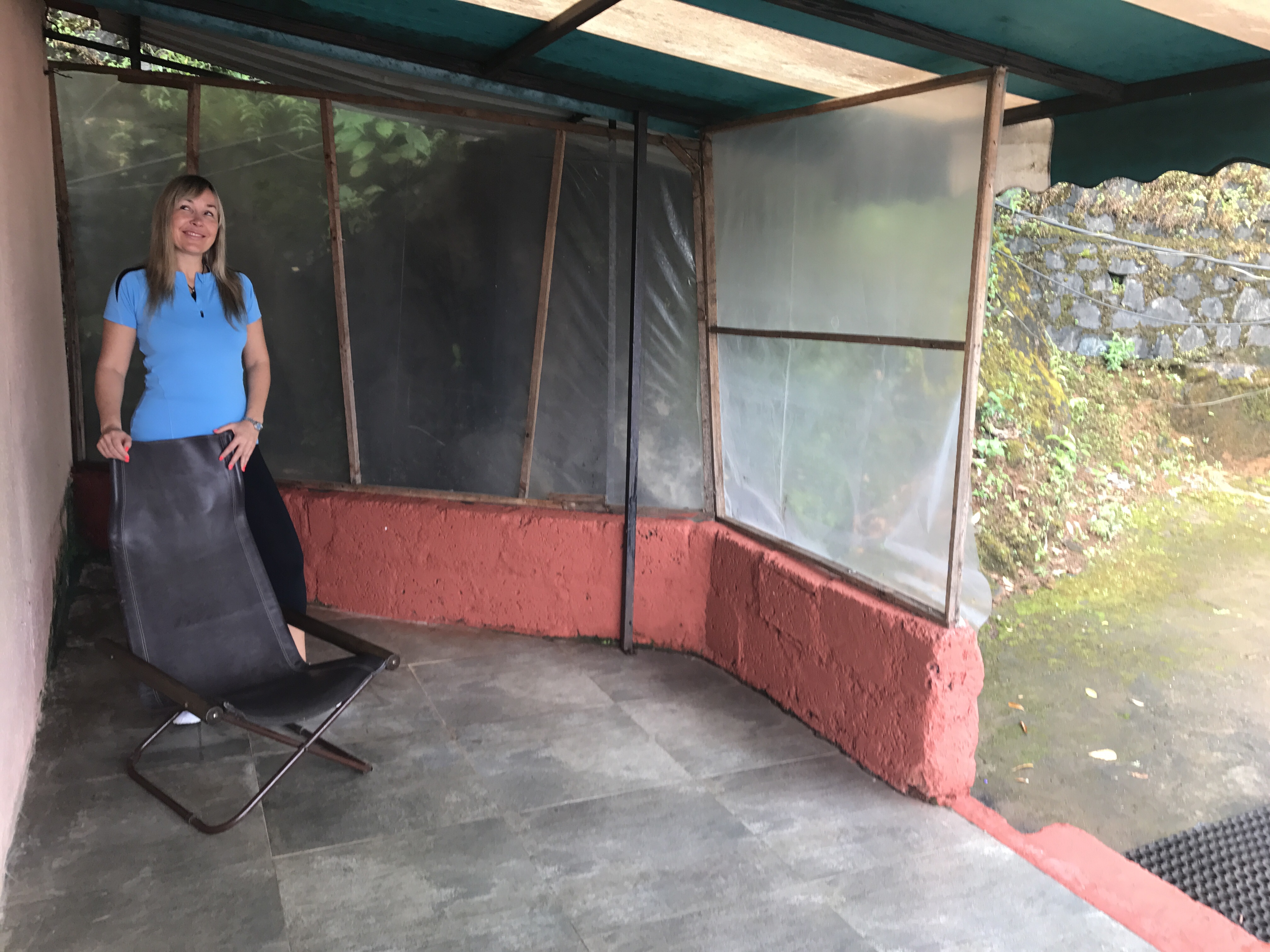 /Taras domku mojej koleżanki/
Po kilku godzinach snu wstałyśmy na śniadanie (niestety opuściłyśmy poranną jogę, która codziennie odbywała się od 7.00 do 9.00 rano. Po ajurwedyjskim śniadaniu (mała miska owoców; kawałki ananasa i arbuza oraz placek z mąki jaglanej z chutney) zostałyśmy zaproszone do lekarza (ajurwedyjskiego) na dogłębny wywiad dotyczący stanu zdrowia, zostałyśmy zbadane, zważone i omówiliśmy oczekiwane rezultaty naszego pobytu. W tym miejscu nadmienię, że ubocznym skutkiem detoksykacji organizmu jest spora utrata wagi (u większości osób).
Po spotkaniu z lekarzem zostałyśmy oddane w ręce naszych masażystek i udałysmy się na pierwszy masaż. Każda osoba miała swojego masażystę, który wykonywał wszystkie zabiegi podczas pobytu.
Pomieszczenie do masażu było dość "surowe"…😲😧😶, nie takie typowe z "beauty spa":)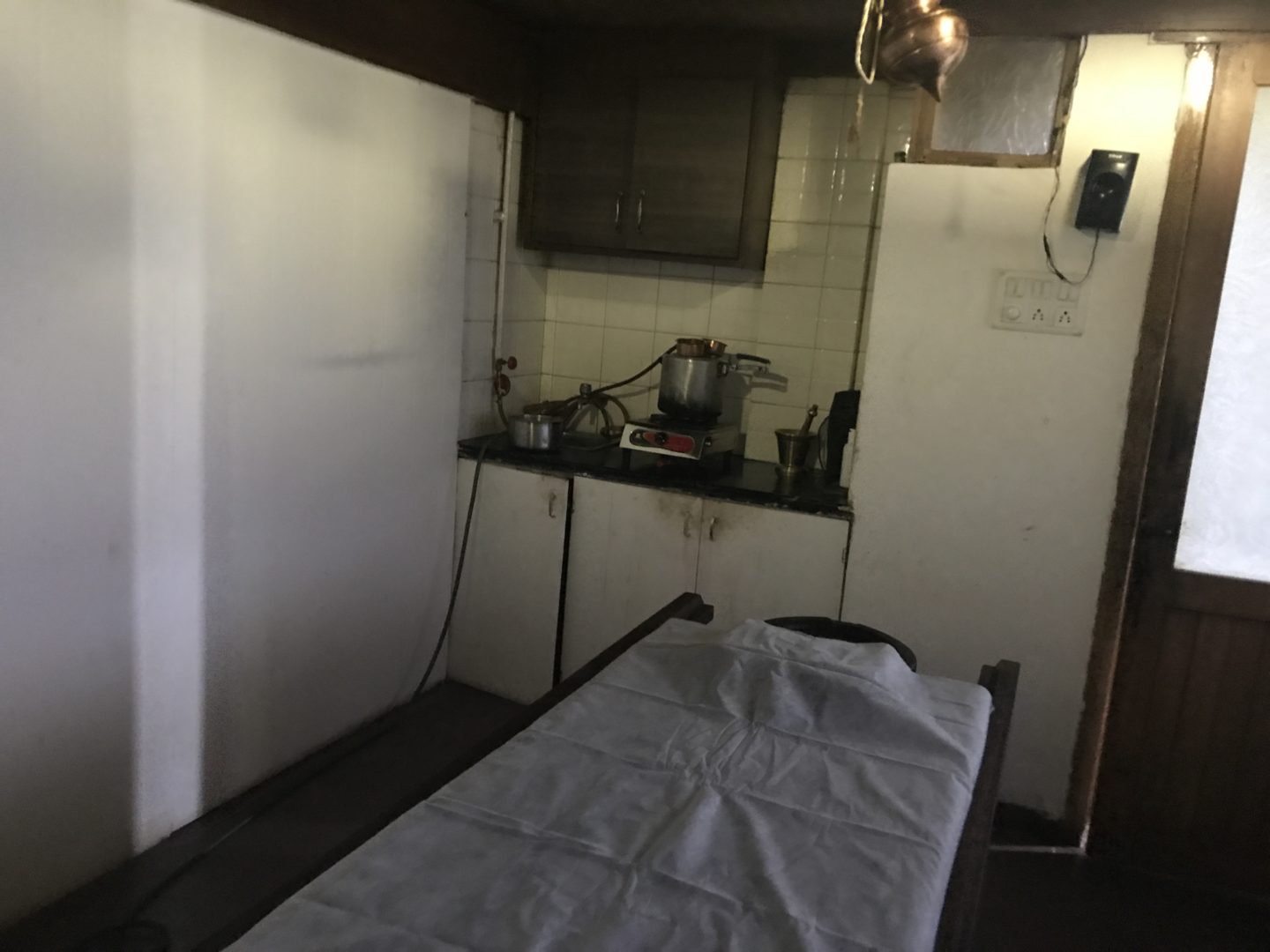 Za to masaż był rewelacyjny, w życiu nie miałam takiego…
na start zostałam poproszona o rozebranie się oraz włożenie jednorazowych majteczek (o tym tez mogłabym napisac parę zdań 😉☺️👀), po czym zostałam posadzona na niski stolik. Moja masażyska ; Sakina stanęła przede mną, posmarowała mi czubek głowy olejem kokosowym, potem punktowo naniosła trochę oleju na szyję, brzuch powyżej pępka, na dłonie, kolana i stopy, po czym zamknęła oczy, złożyła ręce do modlitwy i w ciszy pomodliła się (ten rytuał powtórzyła przed każdym kolejnym masażem) i przystąpiła do masażu głowy, potem pleców. Po około 10-ciu minutach poprosiła abym wlazła na stół do masażu i.. zdjęła mi te majtki jednorazowe… To był kolejny szok dla mnie, ale stwierdziłam że przyjmę wszystko i zaufam 😁. Wymasowała mi każdy (no może prawie każdy 😉) cm2 mojego ciała. Był to masaż "Ahyangam" (z olejem kokosowym i dodatkami). Moja masażystka z Kerali była wprost rewelacyjna. Trwało to około 70 minut. Potem wsadziła mnie do takiego drewnianego box-u z parą. Tylko głowa mi wystawała (całe szczęście). Para wodna była doprowadzana do box-u przez węża podłączonego do szybkowara który stał na gazie…. Pierwsze wrażenie tego wszystkiego jest naprawde nie do opisania, trzeba to przeżyc😅
Cały zabieg przedpołudniowy trwał 1,5 godziny. Po prysznicu (który trwał dość długo, ponieważ było naprawdę sporym wyzwaniem wymyć te wszystkie oleje z długich włosów) było mierzenie obwodu rąk, nóg, talii itp. Powiedziano, że pod koniec pobytu odbędzie się kolejny taki pomiar. Potem Sakina posadziła mnie na ławce przed chatką w której odbywały się masaże i zabiegi i posmarowała mi czubek głowy proszkiem (ponoć na poprawę odporności), kazała mi trzy razy wciagnąć ten proszek przez nos i na koniec naniosła mi troche tego punktowo na środek czoła i na szyję. (Później spytałam się lekarza co to ma oznaczać i powiedział, że stawianie kropki na czole świadczy o osobistej relacji masażystki ze swoją podopieczną 😇, dodam, że nie wszystkie panie otrzymywały takie kropeczki 😉). Ten rytuał Sakina również powtarzała codziennie po zakończeniu zabiegów. Siedząc na ławce roztaczał się przede mną zapierający dech widok. Te momenty były dla mnie jedne z piękniejszych podczas mojego pobytu (taka chwila medytacji).

W kolejne dni zawsze po masażu masażystka odprowadzała mnie do gabinetu lekarza na pomiar ciśnienia i krótki wywiad o samopoczuciu.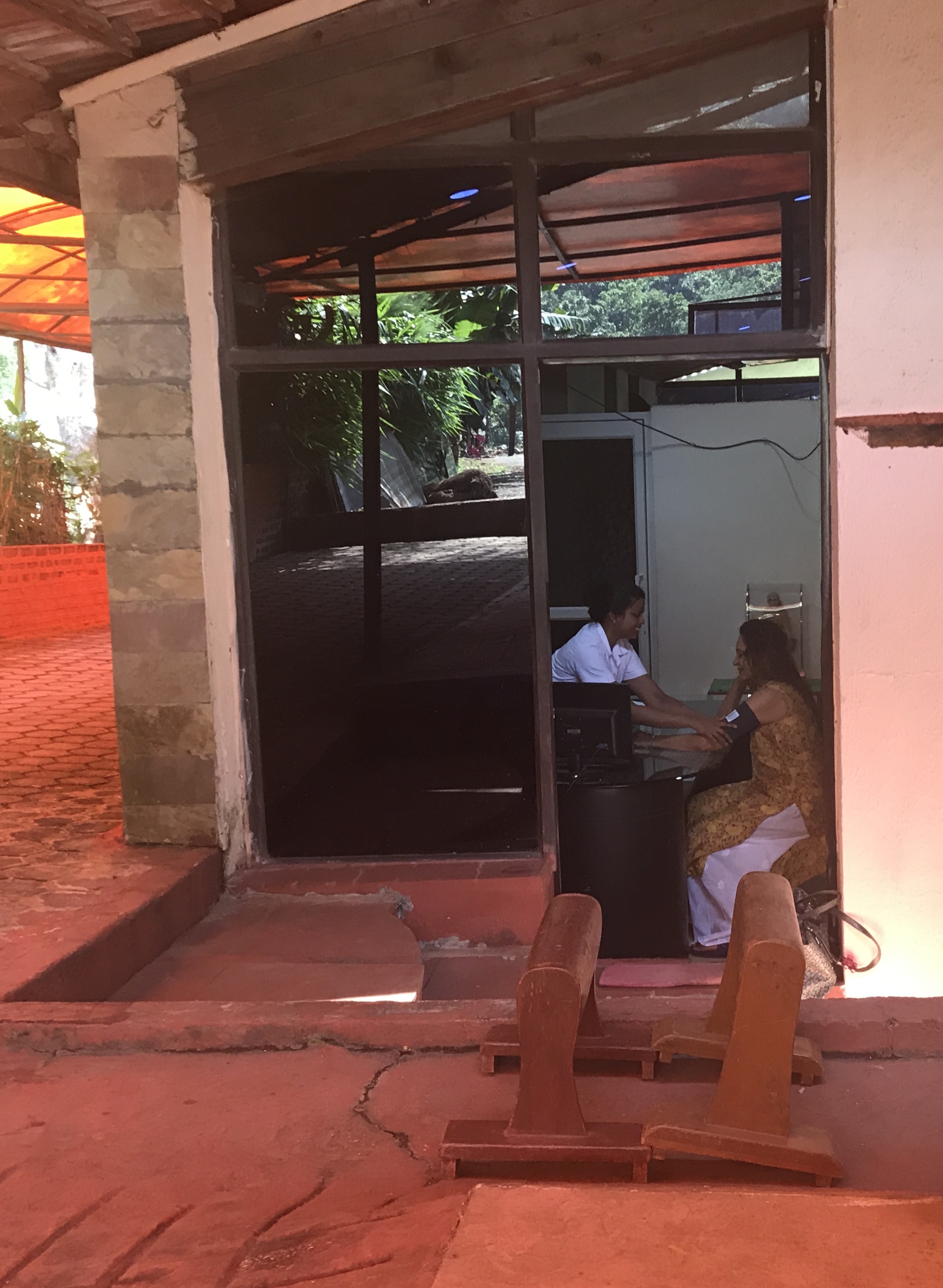 Po masażu był czas na relax na tarasie przy recepcji. To był czas na totalne leniuchowanie ( i przegląd maili – heheheh – o ile działał internet, bo z tym też bywało różnie).
Widok z tarasu (do relaxu) był jak w bajce.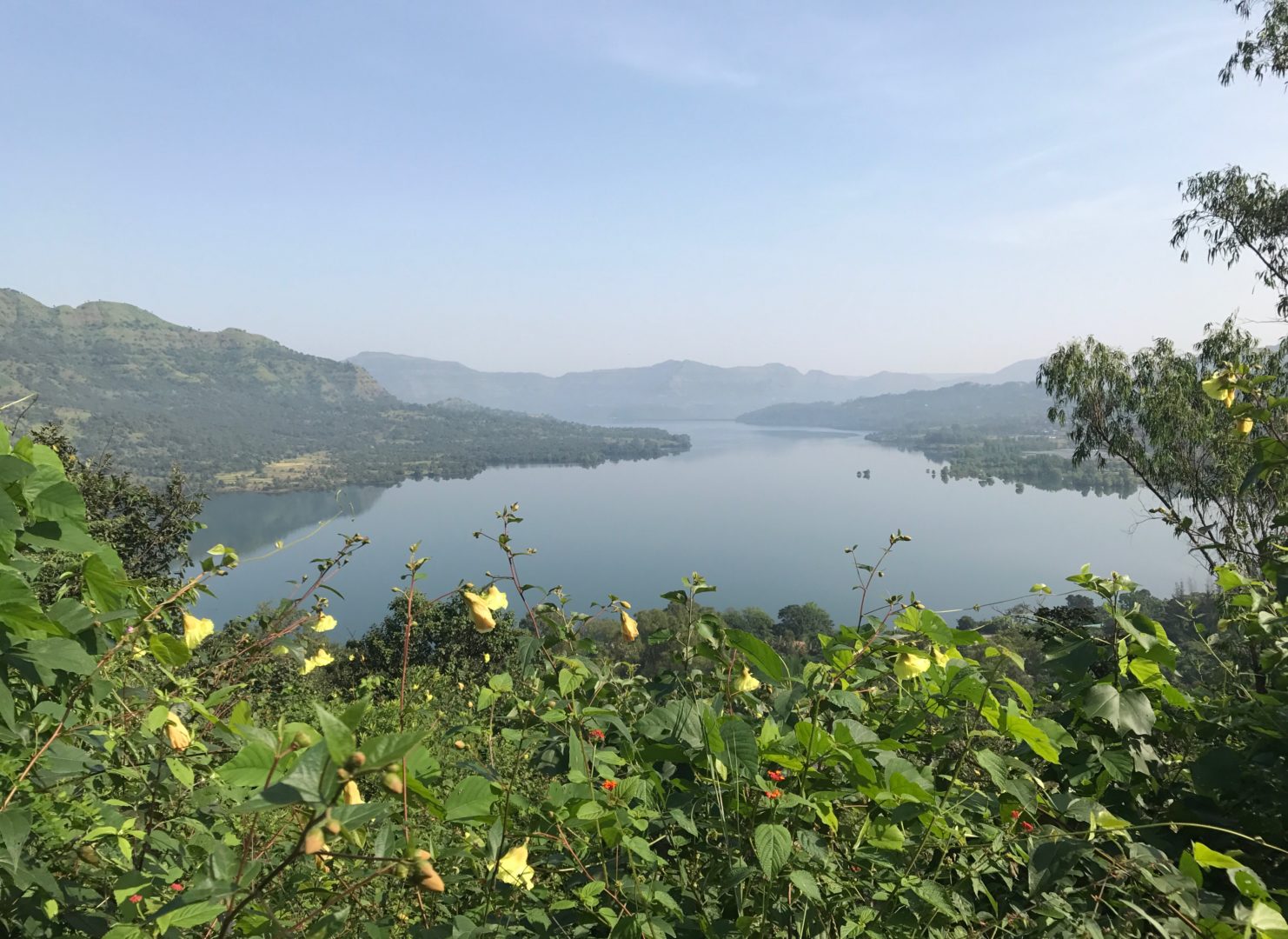 Dostałyśmy plan dnia, żebyśmy się mogły z nim jak najszybciej zaprzyjaźnić ☺️👍
Wyglądał on nastepująco : 6:30 herbata ziołowa (przynoszona do pokoju /domku, 7:00 – 9:00 joga, 9:00 śniadanie, po śniadaniu masaże/zabiegi przedpołudniowe, 13:00 obiad, 15:00-16.00 joga, 16:00 snack, po snacku popołudniowe masaże/zabiegi, 19:00 kolacja.
Pierwszego dnia po obiedzie udałyśmy sie na popołudniowy masaż (każda ze swoją masażystką).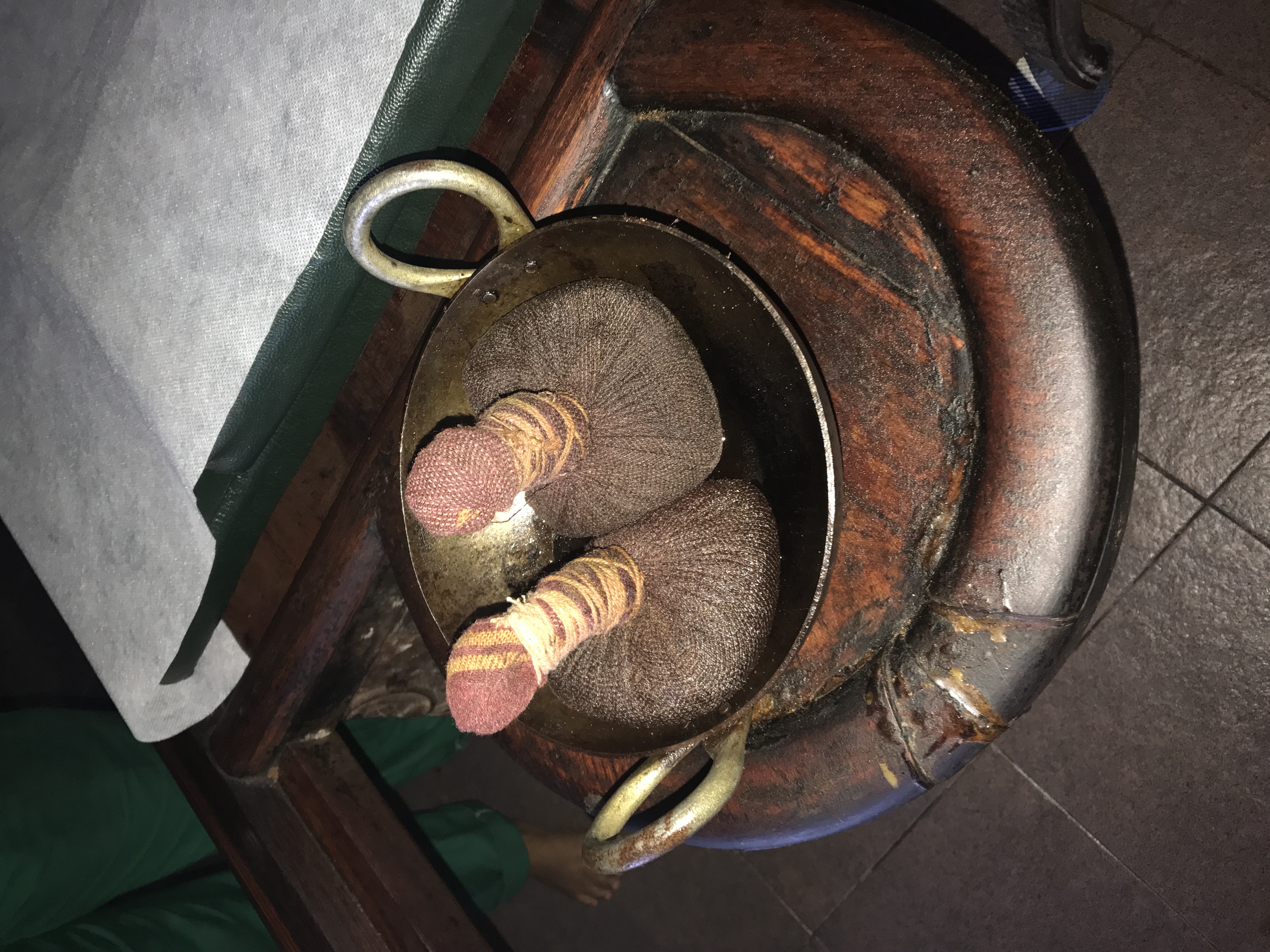 Masaż polegał na oklepywaniu pleców i nóg "stęplami" jak na załączonym zdjęciu. Stęple były maczane w ziołowym preparacie, który był podgrzewany w misce na ogniu. To był zabieg "Podikizni" Masarzystki muszą mieć niezła kondycję i siłę by móc to wykonać… Popołudniowe zabiegi trwały zazwyczaj pół godziny. Potem znowu kąpiel i to upierdliwe mycie włosów😜. A tak przygotowywali zawartość tych "stępli" do masażu: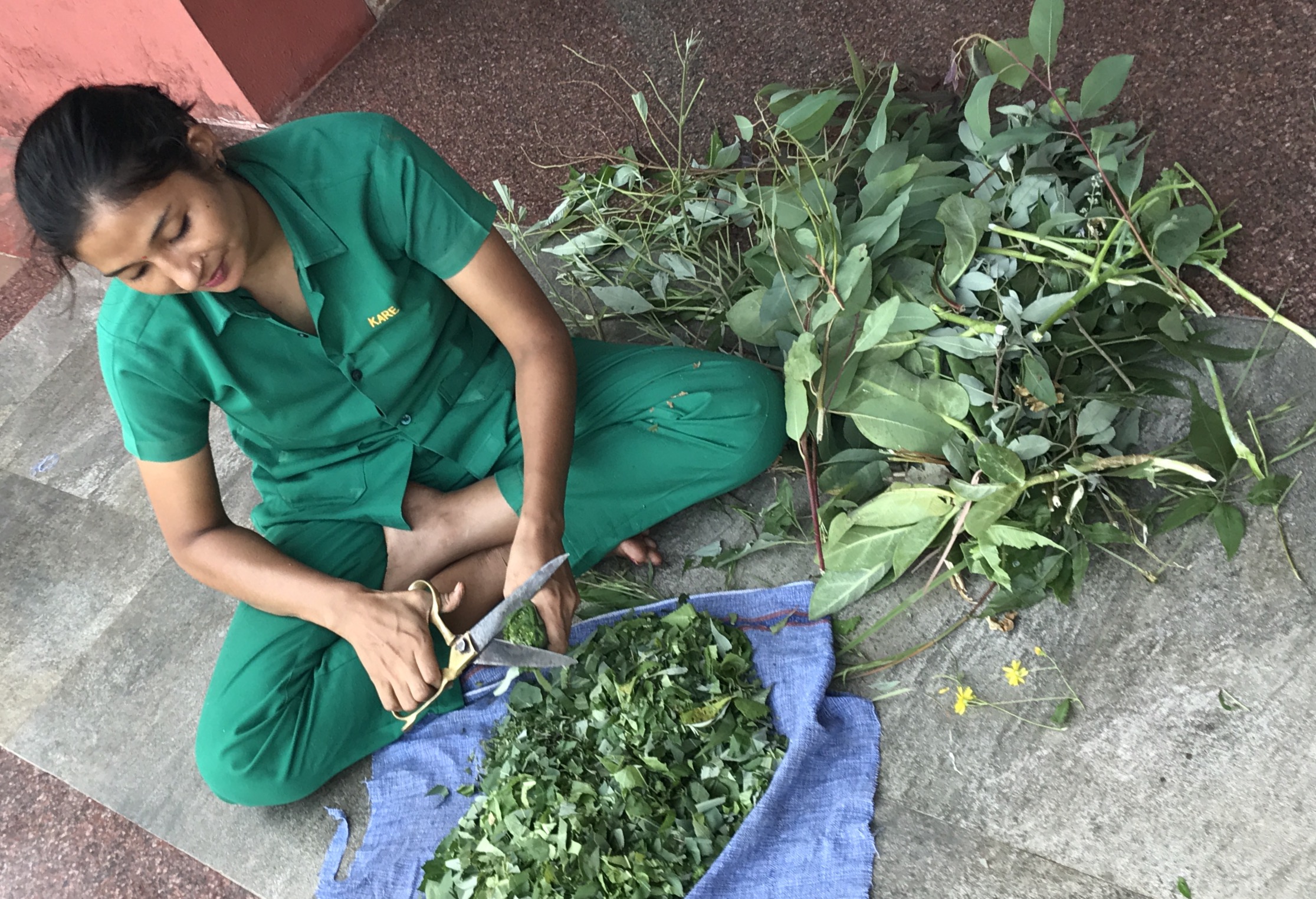 Wklepywane zioła miały pomagać w procesie detoksykacji organizmu oraz poprawiać metabolizm.
Masaże i zabiegi były bardzo ważnym elementem programu.
Przed każdym posiłkiem odmawiana była krótka modlitwa.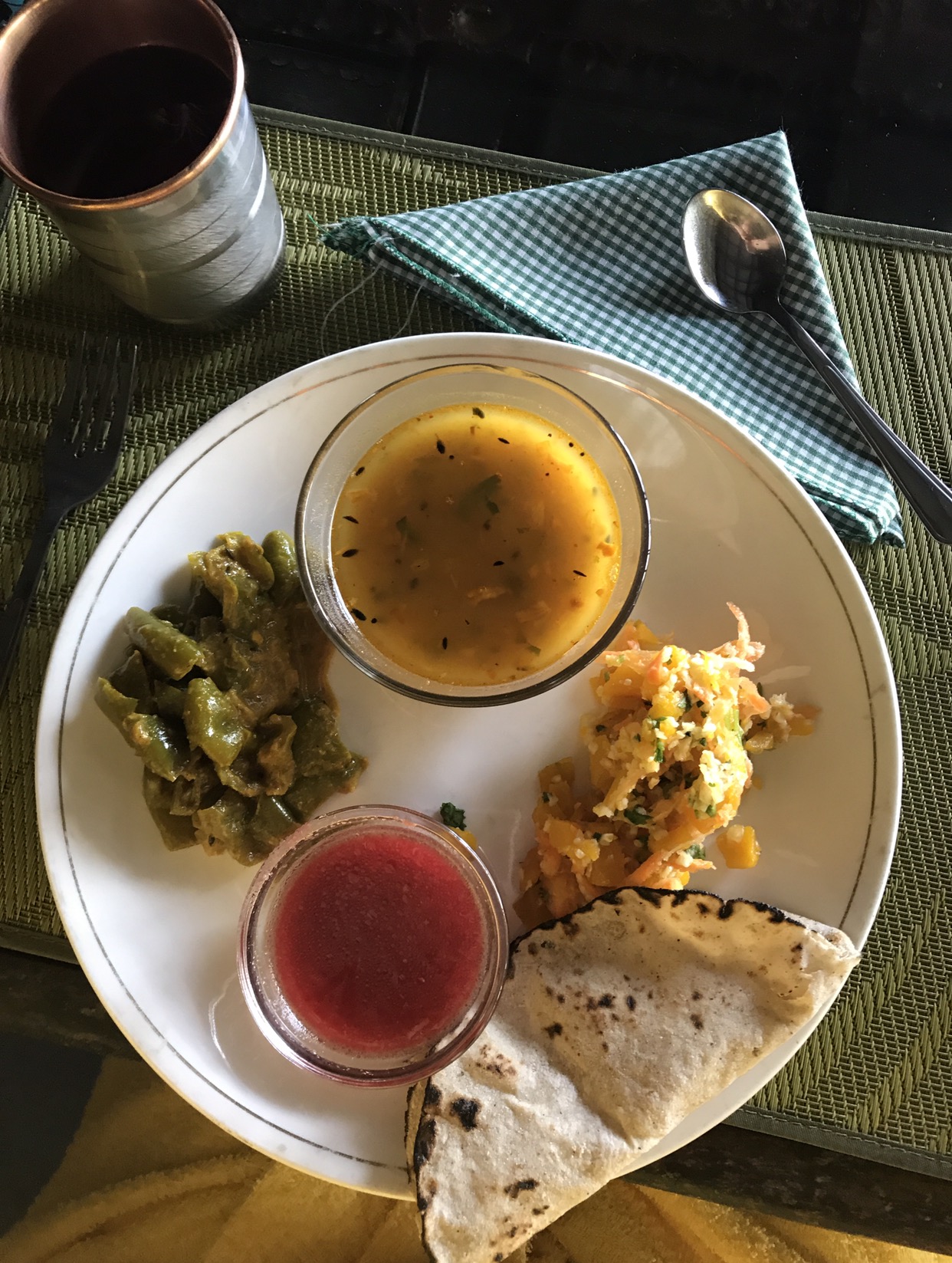 Ayurwedyjskie posiłki bardzo mi smakowały. Jeśli chodzi o kolacje zawsze zupa, potem jakieś warzywa w przyprawach (curry), sałatka (nigdy nie surowa), do tego placek (z mąki która nie zawiera glutenu) i dal – zupa z soczewicy. Do tego oczywiście herbata ziołowa. Porcje małe (ale niektórzy prosili o dokładkę🤣). Obiady i kolacje wyglądały podobnie, tyle że na obiad był zawsze jakiś tyci deser słodzony wyłącznie miodem. Deser należało spożyć na początek czyli jako starter… I tego powinnismy się trzymać tak na codzień również. Generalnie posiłki tak są skonstruowane, że nikt nie chodzi głodny. Wszystko było przyrządzane zgodnie z ayurwedyjskimi recepturami, wyłącznie na maśle ghee (masło klarowane), nic surowego, do picia tylko woda i herbata ziołowa.
Po kolacji uczestnicy programu spotykali się na tarasie widokowym, gdzie odbywały się pogawędki towarzystkie😎.
Po 18.00 robiło się już całkiem ciemno, po 21 – 21:30 zazwyczaj wszyscy się rozchodzili do swoich chatek spać. Normalnie jak małe dzieci 😉😇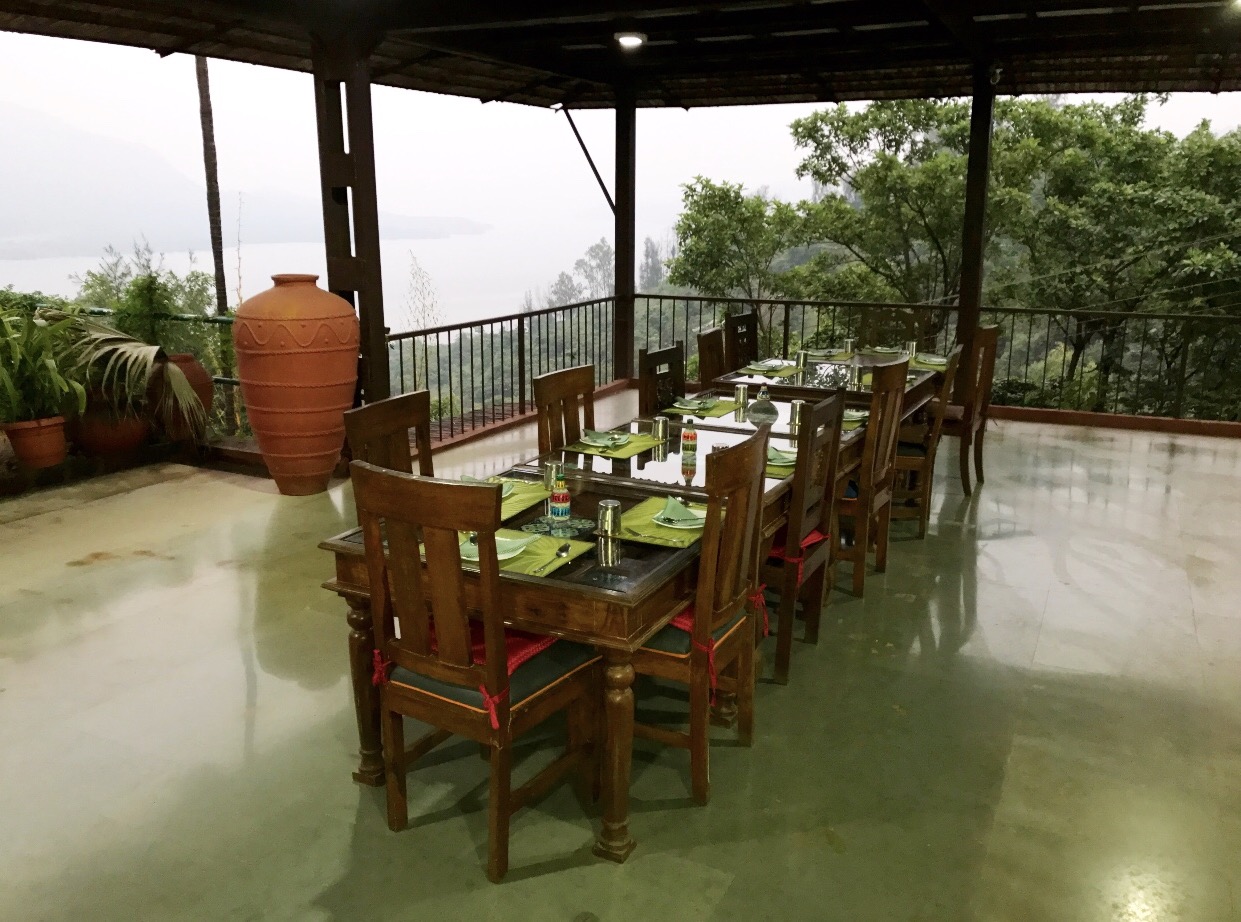 Tu odbywały się posiłki.
Począwszy od drugiego dnia chodziłam na każdą poranną i popołudniową jogę. Praktykowali tam "jogę Iyengara", która daje niesamowite efekty zdrowotne. Prowadzona była bardzo profesjonalnie. Sala jogi wyposażona była we wszystkie niezbędne pomoce. Na każdej praktyce było conajmniej czterech pomocników z obsługi.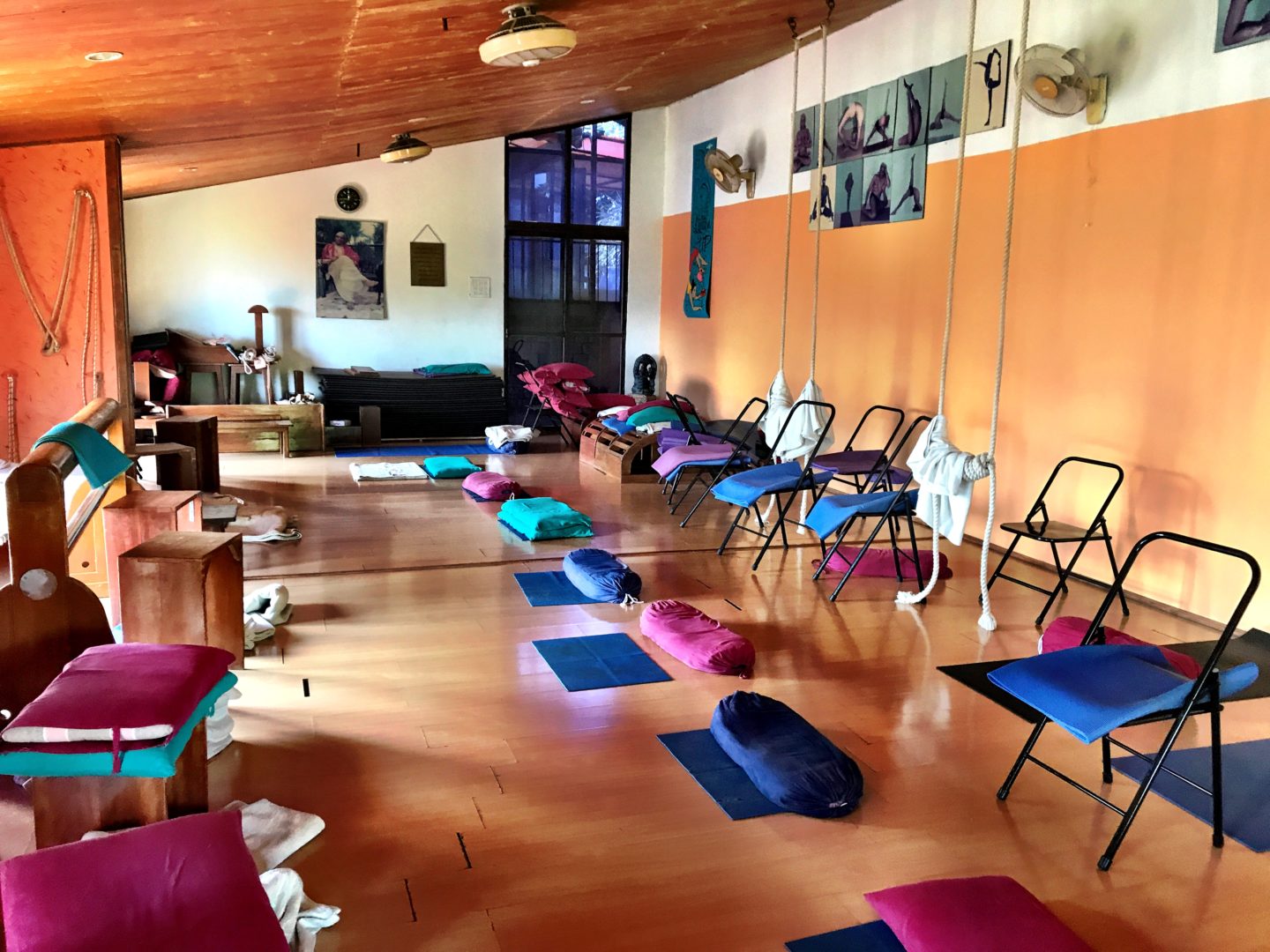 Poranna joga ( która trwała 2 godziny) była dość wyczerpująca, w przeciwieństwie do popołudniowej, która była nastawiona na rozciąganie i relax.
Wykonując ćwiczenia codziennie (najlepiej przez 2 godziny – tylko nie wiem jak na to znaleźć czas w życiu codziennym) można wyleczyć się z różnych stanów przewlekłych oraz zachować (na zawsze 😉🤗) zdrowie.🙏🏽👏🙏🏽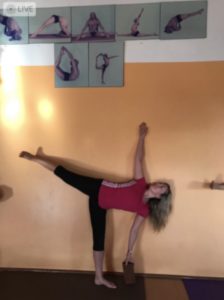 Drugiego dnia zaczęłam program detox. Przez 7 dni polegał on na wypiciu medycznego masła ghee zaraz po porannej sesji jogi. Pierwsza porcja to 30 ml masła, każda kolejna była zwiększana o 30 ml. Siódmego dnia należało wypić 210 ml !!! tego masła.
Ja nie miałam z tym większego problemu ale miałam "ubaw" patrząc co niektórzy wyczyniali podczas przyjmowania większych dawek. Niektórzy zatykali nos, niektórzy zabawnie wykrzywieni pili łyk po łyku. Po wypicu można było zjeść plaster cytryny z solą dla zabicia smaku ( tak jak po wypiciu tequili heheheh 🍸😂) oraz uniknięciu wymiotów….
Olejki eteryczne, które wzięłam do Indii uratowały kilka osób od większych mdłości. Wtarłam im kilka kropel olejku z mięty pieprzowej w tylną część szyji, co działało bardzo energetyzująco i pobudzająco.
Swoją drogą policzyłam, że podczas całego procesu 7-dniowego napiłam się 840 ml masła, czyli więcej niż wina się meści w butelce 🍷brrrrrrrrr.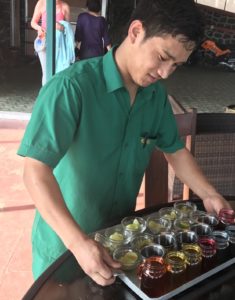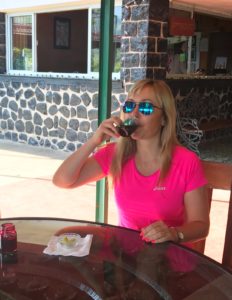 Masło ghee wprowadzone do organizmu w takich ilościach dostaje się do komórek organizmu wiążąc toksyny, aby po zakończeniu całego procesu wydalić je, czyszcząc jednocześnie organy ( wątroba, jelito cienkie i grube itp).
Podczas tych dni pierwszym posiłkiem był snack o 16:00 (Wyjątkiem był pierwszy dzień, kiedy na lunch była mała porcja sałatki, w kolejne dni już tylko sok z cytryną i solą).
Po wypiciu masła ghee trzeba było udać sie na spacer (najlepiej 45 minutowy, ja chodziłam więcej). Spacery te były bardzo fajne, bo zawsze w innym towarzystwie (międzynarodowym).
Większość ludzi źle znosiła proces detoxu (co jest normalne). Nie mieli siły nawet chodzić, mieli mdłości, czuli ogólne osłabienie.
Im więcej dni mijało tym wolniej stawiali kroki…😰🤢
Ja czułam się cały czas rewelacyjnie, toteż znajomi stwierdzili, że mam ADHD, bo mnie wprost nosiło 😉😉😉, ale nie miałam za bardzo towarzystwa 🤓 do unoszenia się ;-))))
Tylko dwa razy udało mi się znaleźć chętnych do pokonania góry okolicznej. Widok był przecudny.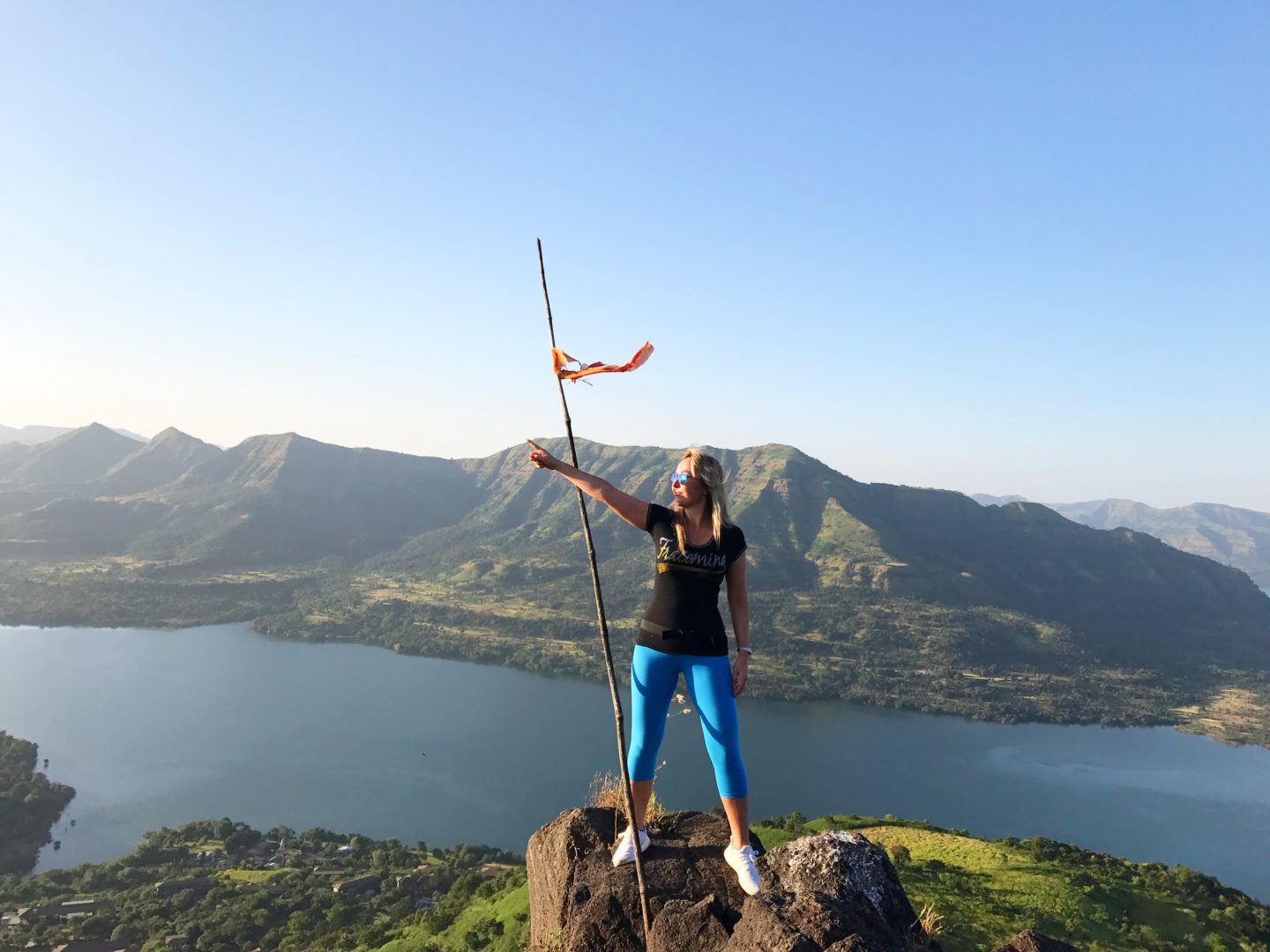 Po siódmym dniu przyjmowania ghee nastąpiły dwa dni przerwy, kiedy nareszcie można było jeść cztery posiłki ( oczywiście przygotowywane ściśle wg. receptur kuchni ajurwedyjskiej).
Tu znajdziesz więcej informacji nt. Kuchni ajurwedyjskiej:
Kolejny dzień był dniem "Vierachana" czyli oczyszczania organizmu. Po porannej jodze i masażu podano nam tabletki ( i taką ciemną pastę) które miały spowodować totalne przeczyszczenie😉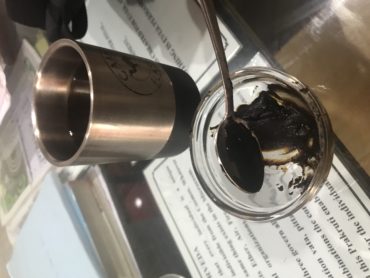 Trzeba było się udać do swojego pokoju do końca dnia. Co godzinę dzwonił lekarz by się dowiedzieć czy jeszcze pacjent żyje😉😁🤓. U większości ludzi trwa to wiele godzin, mają skurcze, i kończąc dzień nie mają już siły wyjść z pokoju.
Ja przeszłam przez to bardzo łagodnie. Wczesnym popołudniem wylegiwałam się już na tarasie. Lekarz nie mógł się nadziwić. Stwierdził, że mam niezwykle silny organizm i prawdopodobnie mało toksyn (zawdzięczając to swojemu sposobowi odżywiania się), co mnie niezwykle ucieszylo.
Kolejne trzy dni po oczyszczeniu organizmu to czas 'wyprowadzenia', kiedy dostaje się bardzo lekko strawne posiłki (woda ryżowa, woda z soczewicą i kombinacje tych potraw, bez przypraw i bez soli…i bez smaku😫).
Podczas dni kiedy piłam masło ghee miałam różne masaże i zabiegi towarzyszące. Między innymi "Udhwarthanam "tzw masaż pudrowy. Wykonywany na cztery ręce, czyli masują dwie osoby. Jest to dość wyczerpujący masaż, poprawiający krążenie krwi i wspomagający metabolizm oraz pozbywanie się toksyn. Masażystki po wykonaniu takiego masażu wyglądają jak po niezłym treningu siłowym….
Ostatniego dnia przed wylotem miałam masaż relaksacyjny "Sirodara" polegający na laniu oleju na czoło, co powoduje totalne zrelaksowanie umysłu i ciała.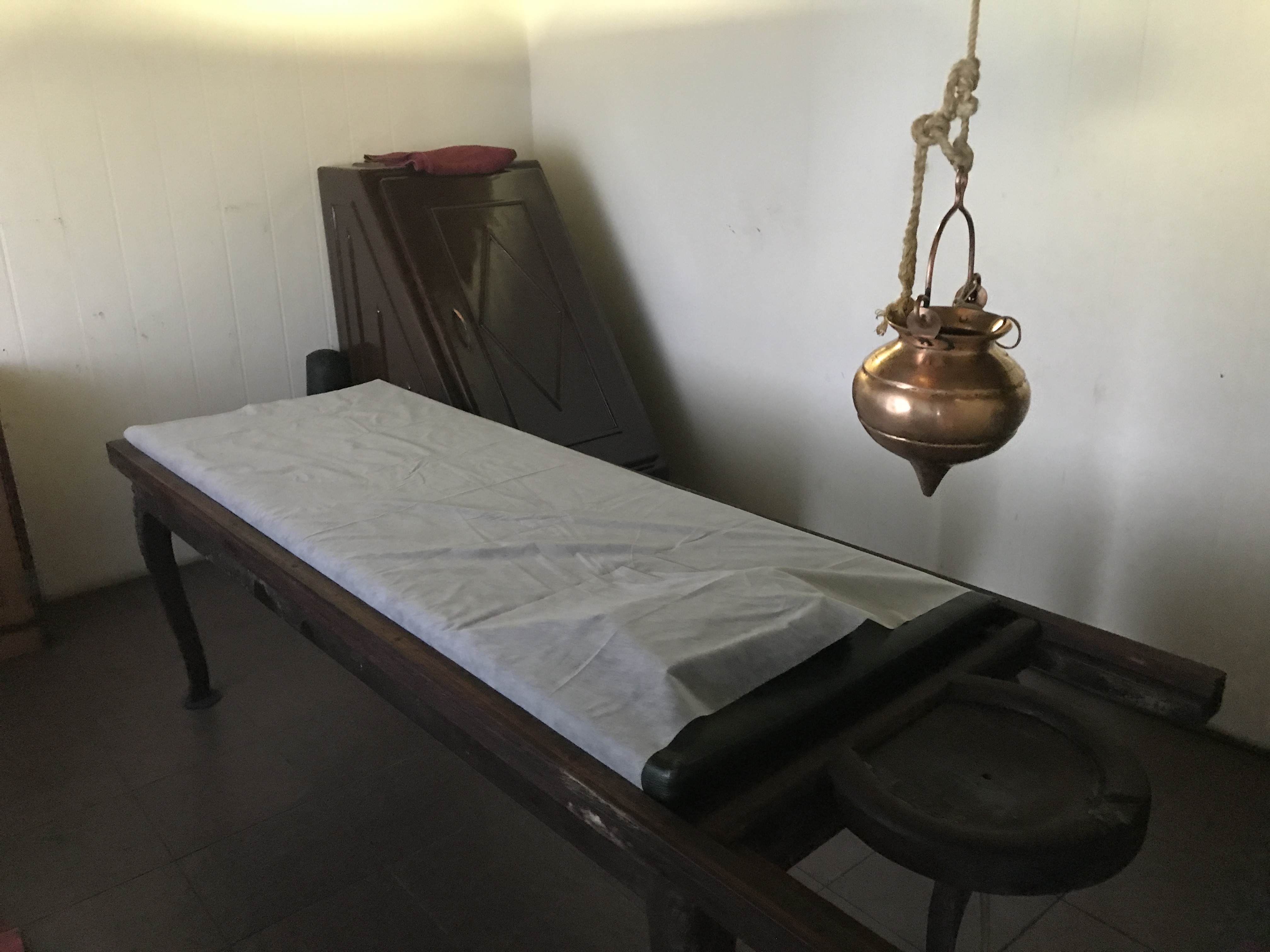 Generalnie zalecane jest aby spędzić 3 tygodnie na takim programie detoksyfikacyjnym. Minimum powinno się na to poświęcić 2 tygodnie. Pobyt taki jest fantastyczny też pod kątem oderwania się na chwilę od rzeczywistości, od codziennych problemów i stresów, pozwala na spojrzenie się na naszą rzeczywistość i życie zupełnie z innej perspektywy.
Wiekszość ludzi traci podczas takiego pobytu 6-10 kg (co jest skutkiem ubocznym detoksu. Ja schudłam 5 kg). Wygląda się dużo swierzej, twarz promienieje, skóra młodsza, ogólnie człowiek wygląda młodziej i zdrowiej… i o to w tym wszystkim chodzi, także polecam wszystkim z całego 💚💚💚
---